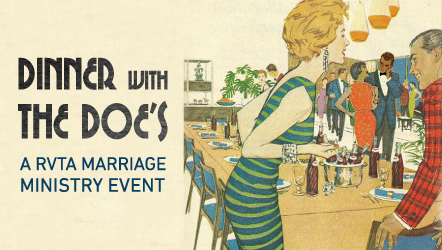 Join us for an evening of food, fun, and connection.
The heart behind this event is to cultivate community by connecting married couples with other married couples who might have otherwise missed each other.
How it works: Sign up in the church lobby as a host couple or as a guest couple. Each host will be matched with up to three other guest couples. The host will set up a time that works for everyone and invite the guests for dinner. The catch is that only the host knows who's coming to dinner – hence, "Dinner with the Doe's".
Dinner with the Doe's will take place between March 4th and March 25th.
Instagram: @rvtamarriageministry
Facebook: @rvtamarriageministry
Email: marriageministry@realityventura.com